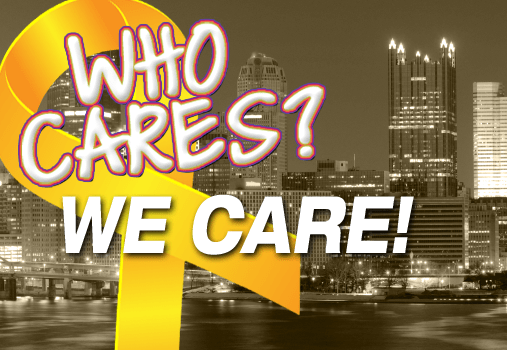 96.9 BOB FM cares
96.9 BOB FM is strongly committed to strengthening the community by supporting non-profit and charitable organizations that help so many throughout Western Pennsylvania.  96.9 Bob FM is proud to be locally owned and operated, and with that, comes a duty to help reinforce the effort of these organizations.
96.9 BOB FM has created the "WHO CARES?" program, to be an additional platform for these organizations. Take some time and find out how you can make a difference.  Volunteer, donate, gather friends and family to take part in an event, or simply, find out more. WHO CARES? We all do.
Animal Friends

Animal Friends is thinking outside the cage!Animal Friends is a non-profit companion animal resource center serving the needs of pets and people for more than 70 years. Our progressive programs have been nationally recognized and include humane rescue, shelter and adoption services for homeless pets…and more!

Walk To End Alzheimer's

The Alzheimer's Association Walk to End Alzheimer's® is the world's largest event to raise awareness and funds for Alzheimer's care, support and research.
Leukemia & Lymphoma Society

The Leukemia & Lymphoma Society (LLS) is the world's largest voluntary (nonprofit) health organization dedicated to funding blood cancer research and providing education and patient services.
Reading Is FUNdemental PGH

Reading Is FUNdamental (RIF) Pittsburgh's mission is to provide children with the resources, motivation, and opportunities to develop a life-long love of reading.
Toys For Tots

The USMC Reserve Toys for Tots Program's mission is to collect new, unwrapped toys during October, November and December, and distribute to less fortunate children.
GPNP

The Greater Pittsburgh Nonprofit Partnership strengthens our region by improving the viability, impact, and effectiveness of the sector.
American Heart Association

Our mission is to build healthier lives, free of cardiovascular diseases and stroke. That single purpose drives all we do. The need for our work is beyond question.
Learning Disabilites Assoc. of America

LDA's mission is to create opportunities fo success for all individuas affected by learning disabilities and to reduce the incidence of learning disabilities in future generations.
United Way

United Way of Allegheny County is a change agent and efficient community fundraiser that improves lives by addressing critical community needs.
.