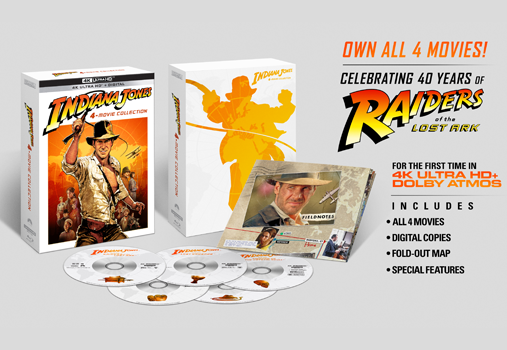 From legendary filmmakers Steven Spielberg and George Lucas, comes one of the greatest movie franchises of all time in 4K Ultra HD. Collected together, all four original Indiana Jones movies have been visually remastered with HDR-10 and Dolby Vision, and state of the art Dolby Atmos for optimum picture and sound quality… just in time to celebrate the 40th anniversary of the adventure that started it all, Raiders of the Lost Ark.
Dive into the spectacular stunts and groundbreaking effects with seven hours of special features on one disc. Spanning the globe, on death-defying archeological endeavors, if adventure has a name… it must be Indiana Jones.
Own it now on 4K Ultra HD and Blu-ray. From Paramount Pictures. Rated PG and PG-13.
Enter here to win a copy of the Raiders of the Lost Ark movie on Blu-ray with 96.9 BOB FM!