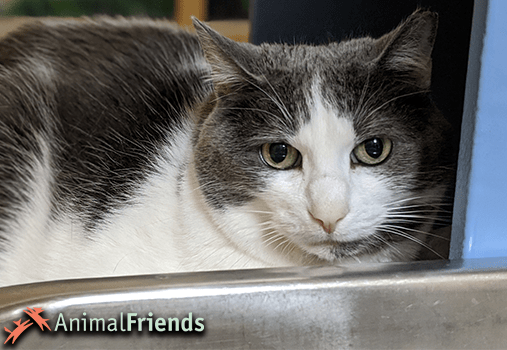 This gal is Justice and she is looking for her forever home! She is a seven-year-old Domestic Shorthair and the Animal Friends Pet of the Week.
Sweet Justice has been looking for a home for over two years after her owner passed away. She can be shy and timid in new situations – but who could blame her? She was lucky to spend some time in a foster home where she had a chance to build her confidence and become more comfortable.
Shortly after moving back into the cat condos at Animal Friends, she began to feel more anxious. So, Justice is thankful for our volunteer coordinators who opened up their office space to provide a calm environment where she can receive the extra support and individual attention she needs to help her come out of her shell.
To learn more about or adopt Justice, visit her page by clicking HERE. For all things Animal Friends, please visit ThinkingOutsideTheCage.org.