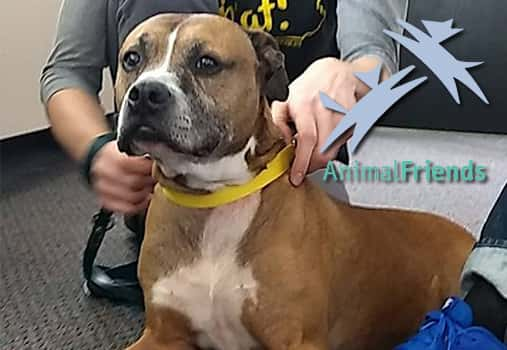 Why not start your year off the right way by adopting a dog?  Meet Wagtail, a 10 year old Pit Bull looking for a home.  He is one of the happiest dogs out there!  Wagtail is in great shape for his age, and is very sweet and gentle, as soon as you meet him!
Wagtail isn't just named after the bird, but after his tail that never stops wagging!
Wagtail was transferred from another shelter during Animal Friends' New Year's Rescue.  He is incredibly friendly, and loves treats.  He would prefer to be in a home without cats, and with children ages 10 and up.  He may even be able to live with another dog!
If you would like to adopt Wagtail, check out his page HERE.  For all animals looking to be adopted, visit ThinkingOutsidetheCage.org.