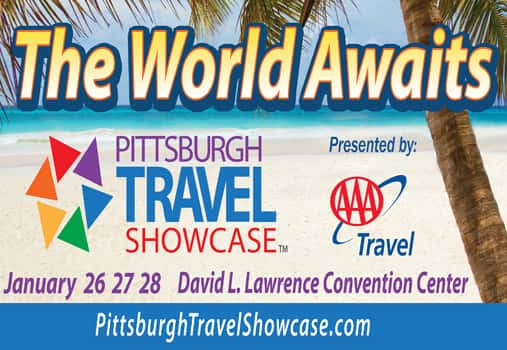 The world awaits, find your adventureTM – at the 2018 PITTSBURGH TRAVEL SHOWCASETM!
The 2018 Pittsburgh Travel ShowcaseTM presented by AAA Travel is scheduled for three big days at the David L. Lawrence Convention Center:
Friday, January 26        12:00PM to 8:00PM
Saturday, January 27   10:00AM to 8:00PM
Sunday, January 28      10:00AM to 5:00PM
Save time and money and meet one-on-one with top travel service representatives from a variety of international, national and regional exhibitors, including major cruise lines, railway and tour companies, theme parks, destinations, attractions and more!
One stop shopping and exclusive AAA savings, packages and benefits! Book your next trip with our experts in our convenient Vacation Store!
For the full list of events and ticket information, visit PittsburghTravelShowcase.com.