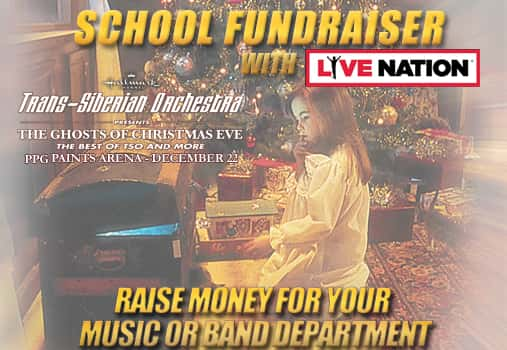 School fundraiser for your band or music department!
FILL OUT THE INFORMATION BELOW

YOU WILL GET A UNIQUE CODE FOR YOUR SCHOOL

PROMOTE  TO USE YOUR UNIQUE CODE WHEN BUYING TICKETS IN THE "SCHOOL SPIRIT SECTION" TO THE 3PM TRANS-SIBERIAN ORCHESTRA CONCERT ON DECEMBER 22 at PPG PAINTS ARENA

EVERY TICKET SOLD USING YOUR SCHOOL CODE WILL GET YOUR SCHOOL MUSIC OR BAND DEPARTMENT $5!  YES,

$5 PER TICKET SOLD

, USING YOUR SCHOOL'S CODE!
BOB FM will e-mail you a fundraiser flyer and ad to place on your school's (or personal) social media page to help spread the word. The fundraiser will end 12/22 (at 3PM).  If your school has raised any money, you will receive an e-mail before 12/31.
It's all a part of Mission Music, BOB FM's charitable initiative, created for the public to understand the need and importance of music education in schools.